SCREEN PRESS
MAESTRO SD SERIES
INDUSTRIAL STOP CYLINDER PRESS
Maestro Servo Drive screen printing press can be set the various operation. It is suitable for conductive circuits, security printing, instrument panels, etc. which equires uniform printing accuracy and printing film thickness.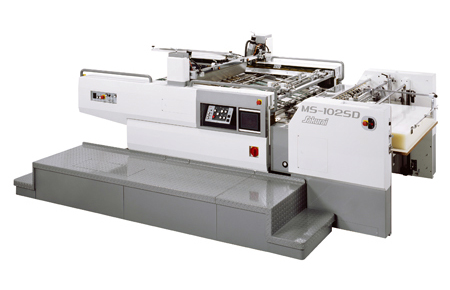 Features
Master frame with an independent drive system moves at a consistent speed.
Running speed of flood coater/squeegee can be set individually.
Printing stroke can be set variably
Various screen frame sizes within the range specified can be used.
Squeegee impression can be controlled automatically thanks to the function of pulse motor.
Specifications
Model
MS-80SD
MS-102SD
Maximum sheet size (mm)
800 X 550
(31 5/8 X 21 3/4″)
1,100 X 750
(43 3/8 X 29 5/8″)
Minimum sheet size (mm)
350 X 270
(13 7/8 X 10 5/8″)
420 X 297
(16 5/8 X 11 3/4″)
Maximum print size (mm)
720 X 500
(28 3/8 X 19 3/4″)
1,050 X 730
(41 1/2 X 28 7/8″)
Minimum screen frame size (mm)
660 X 660
Maximum screen frame (mm)
880 X 880
1,280 X 1,140
1,300 X 1,170(Option)
Printable thickness (mm)
0.05 ~ 0.8
0.075 ~ 0.8
Printing speed (IPH)
100 ~ 2,000
200 ~ 2,000
Dimensions (D x W x H) (mm)
2,995 X 2,270 X 1,170
3,817 X 3,132 X 1,200
Machine weight (kg)
3,000
4,300
Power consumption (kW)
13.0
15.0
Standard Equipment
・Front pick up feeder
・Press down feed rollers and brushes
・Adjusting single action feed table set up device (for MS102SD)
・Dripless squeegee
・LCD monitor touch panel
・Adjustable while running side lays (R+L)
・Fixed rebound stopper (delivery side)
・Motorized squeegee pressure control
・Print elongation corrector
・Delivery board lowering device
・Suction feed belts
・Vacuum cylinder (hole dia. 0.8 mm)
・Quick action squeegee lock device
・Screen frame pull-out device
・Total counter
・Fixed rebound stopper (feeder side)
・Built-in front lay sensor
・Ink drip pan (at frame pull out)
・Preset counter
Optional Equipment
・Sheet cleaning roller unit
・Different anti-static eliminating devices
・Air compressor (0.4kw)
・Double sheet detector (mechanical/ultra-sonic)
・Cross over stand
・Remote control for squeegee back/forward adjustment (for MS102SD)
・Remote control for screen frame adjustment (for MS102SD)
・CCD camera sheet alignment system
・CCD camera for screen frame adjustment
・Zero clearance printing mode
・Manual feeding table
・Scratch free sheet feeding system