ROLL TO ROLL / SCREEN PRESS
MS-110DDS
DIRECT SERVO DRIVE FULL AUTOMATIC CYLINDER SCREEN PRESS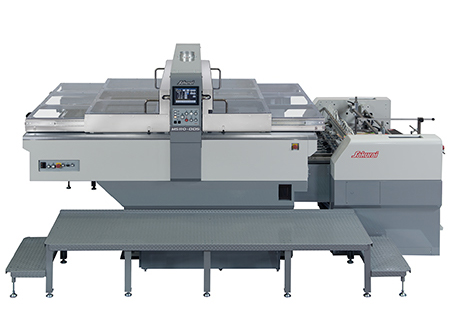 Features
Gearless system which provided by direct servo drive leads high accuracy and maintainability
Touch panel supports numerical control
Thin substrate printing
Surface of feed board and delivery board are improved, and delivery support systems are applied. Those improvement decrease of reverse side scratches of substrates.
Because of the Max. sheet size is 1,140 x 788, it can use as processer after offset press.
Safety deodorant cover can be available to correspond to risk assessment.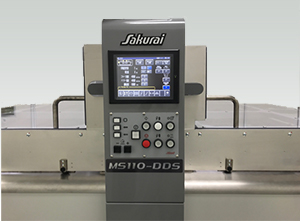 Printing condition can be controlled numerically from a large size color touch panel located at squeegee post part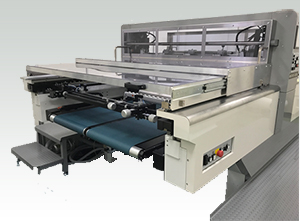 The newly designed top covers have improved hermiticity and exhaust capability, which brings a clean and safety environment of print room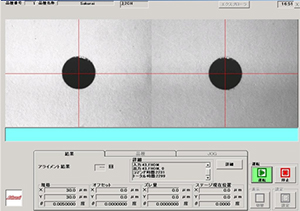 CCD camera checks register marks for sheet alignment.This is effective to align the sheet which has no accurate corner edge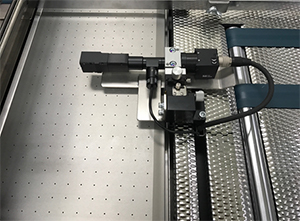 By improvements in feed board surface treatment and transport mechanism prevents scratches on the back of the material as well as the material surface
Major Specifications
Model
MS-110DDS
Max. sheet size (W x L) (mm)
1,140 x 788
(44 7/8 x 31 1/32″)
Min. sheet size (W x L) (mm)
420 x 297
(16 5/8 x 11 3/4″)
Max. print size (W x L) (mm)
1,090 x 766
(42 29/32 x 30 5/32″)
Max. screen frame size (W x L) (mm)
1,340 x 1,206
(52 3/4 x 47 31/64″)
Min. screen frame size (W x L) (mm)
880 x 880
(34 3/4 x 34 3/4″)
Sheet thickness (mm)
0.075 ~ 0.8
(0.002 ~ 0.031″)
Printing speed (IPH)
200 ~ 2,000
Machine dimensions (L x W x H) (mm)
3,937 x 3,270 x 1,784
(155″ x 128 47/64″ x 70 15/64″)
Machine weight (kg)
4,850
Power consumption (kW)
6.9
Depends on the kind of printing substrates and printing conditions, figures may be changed.
Standard Accessories
・Front pick up feeder (with belt speed slow down)
・Pneumatic screen frame lock
・LCD monitor touch panel
・Motorized squeegee pressure control
・Print elongation corrector
・Delivery board loweing system
・Quick action squeegee lock device
・Quick clamp flood coater bar
・Built-in front lay sensor
・Swing type squeegee
・Preset counter
・Screen frame positioning remote control
Optional Equipment
・Sheet cleaning roller unit
・Anti-static devices
・Ultra sonic double sheet detector
・Cross over stand
・CCD camera alignment system
・Smart cover