ROLL TO ROLL / SCREEN PRESS
MAESTRO MF-80VII
FEEDER DETACHABLE FLAT BED
It is a high speed, fully automatic screen printing press conbines automatic front pick up feeder and flatbed printing unit, and can be used such as automotive instruments, textiles, nameplates, and membrane printing.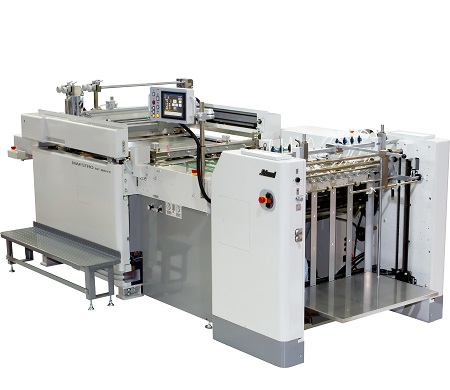 Features
Suitable for high-end industrial printing applications
Sheet alignment control can be realized by reading the mark on the printed sheet by a camera or sensor (optional).
* The photo shows Optical Sensor Alignment system



You can see the machine's video.
(Automatic flat bed high speed screen printing press, MF-80VII)
Specifications
Model
Standard
Camera sheet alignment system (option)
Maximum substrate size (mm)
800 X 600
Minimum substrate size (mm)
350 X 270
420 X 270
Substrate thickness (mm)
0.1 ~ 1.0

*1

Maximum substrate weight (kg)
1.0
Maximum printable size (mm)
800 X 585
Maximum frame size (mm)
1,100 X 1,000
Minimum frame size (mm)
760 X 660
Maximum Printing Speed (IPH)
1,000

*2

650

*2

Dimensions (D x W x H) (mm)
4,034 X 2,025 X 1,550
Machine weight (kg)
3,000
Power consumption (kW)
7.2
*1 It depends on the substrate's characteristics and printing conditions.
*2 The denoted speeds are indicative of the mechanically possible performance The speeds are subject to variation according to the plate and substrate to be used and printing conditions.
Standard Equipment
・Side edge detection sensor + side slide table type registration device
・One side operation system (printing plate position, squeegee and flood-coater pressure adjustments)
・Squeegee & flood-coater are quickly and easily attached
・Numerical indicators for several adjustment area
・Screen frame unit lift-up
・Screen frame move back to horizontal posotion
・Printing head lift-up
・Touch panel operation
・Delivery conveyor
・Front pick up feeder (independent operation)
・300mm wide step (operation side)
Optional Equipment
・Camera sheet alignment system
・Dripless squeegee (swing type)
・Skew squeegee device (Max. printing area & printing pattern position are limited)
・Twice printing system
・Cleaning roller unit (Techni-clean roller)
・Static electricity eliminators
・Double-sheet detector (machanical,ultra sonic)
・Sucker nozzle timing change for thick and hard material
・CCD cameras for plate positioning
・600mm wide step