INSPECTION / HOT FOILER / PROCESSING
LQM EVOLUTION SERIES
EMBOSSER
LQM EVOLUTION series can be lined with Sakurai screen printing press, the foil stamping process that thermocompresses the foil to the UV varnish printing by screen press has a new creativity and functionality. It can add the impact luxurious and precious on substrates. This can increase the productivity of high-quality screen printing with value added process.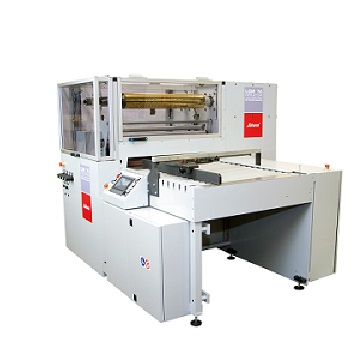 What's "HOT FOIL STAMPING"
After curing the UV varnish printed on the substrate surface by screen printing, LQM EVOLUTION (LQM EVO) handle the process of thermocompressing the foil material to the varnish coating parts in one pass.
Configuration (LQM EVO Hot Foil Processing Line)

[ Stacker ] - [ LQM EVO ] - [ UV Dryer ] - [ Screen Printing Press ]




Hot foil effect

  Hot foil process   <- UV spot coating by screen



You can see the actual production line

(Fully automatic screen printing machine MS-102AX +
foil stamping machine LQM-105 EVO + inspection device SI-102IN)
Features of LQM EVOLUTION
Versatility and low cost without using special foil mold.
It makes possible to improve productivity while getting high-precision hot stamping effects only at the necessary points.
High accuracy of registration because the foil can be put on multiple imposition.
It can be installed as an optional processing function on an existing screen printing line(UV).
Increasing in a size of foil web core diameter to 3 inches makes large diameter foil roll can be mounted which improve the productivity.
The LQM EVO has alignment conveyor , thus the sheets are precisely transported to the foiling part.
Adding new function of remote assistance enabled rapid online support.
Features of various foil stamping machines
SAKURAI
LQM EVOLUTION
Conventional
Hot foil machine
Cold foil
Digital foil machine
Metallic
O
O
*
O
Reproducibility
(definition)
O
*
O
O
Registration accuracy in
multiple imposition
O
*
O
O
Embossing (excitement)
O
O
X
O
Mold
NO need
Need
NO need
NO need
Heat effect on materials
*
X
O
*
Running speed
800 - 1,500 S/H
5,000 - 9,000 S/H
1,500 - 6,000 S/H
500 - 1,500 S/H
Foil usage
*
O
X
*
* moderate
What LQM EVO can do
High-class production with foil stamping
Product: packaging material, etc.



Product differentiation and branding
Product: Package, book cover, etc.



Hot stamping on various materials
Product: plastic material,Cards, clear files, etc.



Specifications
Model
LQM-76 EVOLUTION
LQM-105 EVOLUTION
Substrates loading sizes
Minimum 350 x 270mm
Maximum 760 x 520mm
Minimum 560 x 350mm
Maximum 1,050 x 750mm
Substrates
Evaporated paper, plastic sheet,
Laminated material, metal plate,
various paper materials
Evaporated paper, plastic sheet,
Laminated material, metal plate,
various paper materials
Substrates thickness
0.14 - 0.47mm
0.14 - 0.47mm
Works mode
a) Partial foil mode (foil saving)
b) Continuous mode
c) Bypass mode
a) Partial foil mode (foil saving)
b) Continuous mode
c) Bypass mode
Foiling speed
a) Maximum speed 30m/min.
(55 meter/min, Bypass mode)
a) Maximum speed 30m/min.
(55 meter/min, Bypass mode)