Sakurai's participation of FESPA 2017 Hamburg, Germany

We are pleased to inform you about our participation of Fespa 2017 (Hamburg May 8th – 12th 2017)
As at the last Fespa exhibition we will co-share a booth with Natgraph Ltd from UK the well-known manufacturer of high specification dryers and screen auxiliary equipment.
Sakurai booth no. : A4-D20
Exhibit 1 : Sakurai Direct Servo Drive Cylinder Screen Press Model : MS-110DDS
Sakurai, leading manufacturer of cylinder type screen press, printing press.
releases the Direct servo Drive Stop cylinder screen
* Direct servo drive mechanism has applied for major drive part of the press including the printing cylinder drive.
--> No gears backlash is expected
* Squeegee/flood coater pleasure and print stroke/clearance gap can be set from touch panel
--> Numerical job control can be applied.
* Special treated feed board surface and feeding support by blow up and down air system
--> Scratch less sheet feeding
* Sakurai original smart cover (with exhaust duct) can be offered as option
--> Safety operation and improving print room atmosphere
* With CCD camera alignment system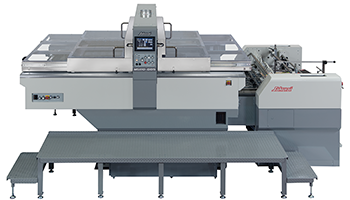 After adjust the sheet position with traditional mechanical register system,
read printed alignment marks on sheets by CDD camera, then fine-register
with center vacuum table.
Spec.
Max. sheet size : 1,140 x 788 mm
Min. sheet size : 420 x 297 mm
Speed : 200 - 2,000 IPH
Sheet thickness : 0.075 - 0.8 mm
Exhibit 2 : Sakurai Stop Motion Cylinder Screen Press Model : MS-80SD
With the application of independent servo drive motors, the movement of the screen frame and the cylinder rotation are driven separately on MS80SD press.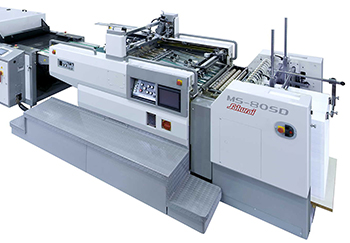 This makes it possible to print with even even squeegee pressure at a constant speed.'By using this mechanism, print length can be adjusted 'in 5 different points. CCD camera sheet alignment 'system can be fitted as optional item. Thus, higher accurate printing required for the different 'industrial screen printing can be achieved.
Spec.
Max. sheet size : 800 x 550 mm
Min. sheet size : 350 x 270 mm
Speed : 100 - 2,000 IPH
Sheet thickness : 0.05 - 0.8 mm
Exhibit 3 : Rotary Complex & Converting System Model : OLIVER-66RCS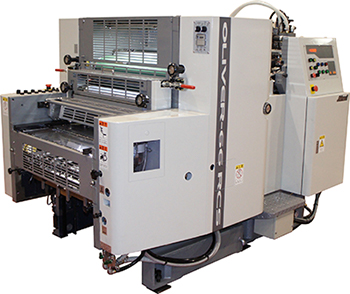 Sakurai Oliver-66RCS is a new innovative machine which "Die cuts", "Perforates in the vertical or horizontal positions" and "creases" at high speed. Also, numbering and imprinting capabilities as optional equipment.
Spec.
Max. sheet size : 660 x 470 mm
Min. sheet size : 297 x 200 mm
Speed: 4,000 - 10,000 IPH
Sheet thickness : 0.04 - 0.4 mm