The First Circular for DRUPA 2016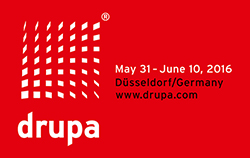 As everybody who involved printing industry knows, Drupa 2016 will be held in Dusseldorf from May 31st to June 10th. 2016 is 70th anniversary of Sakurai establishment. We briefly inform you about our participation on the show as follows below.
1.Term and location
31st of May to 10th of June 2012
Messe Dusseldorf: Hall3 3A90 (405m2)
2.Exhibiting presses
OL580SDC(LED-UV) ? 5color B2 wide offset press with coater and extended delivery
MS80AII ? Upgrading former MS80A by operation panel, sheet size and printing speed
MSDR60 LED-UV ? Roll to roll single color screen press with UV dryer
3.Sakurai Drupa partners
Natgraph as Co-exhibitor: Dryer and Stacker for screen presses
4.Additional information
Details of exhibition machines, prices and our concept of Drupa will be informed you shortly.