Shuttle bus service between Sakurai factory and Daiwa Roynet Hotel for the Open House
There will be shuttle bus back and forth between Daiwa Roynet Hotel and our factory for the open house, which we hold for April 13th through April 16th. Please notify us which bus you will be taking.
From Daiwa Roynet Hotel GIFU (1.Bus stop location)
Bus stop location: In front of the hotel
Bus leaves at: (1) 9:00 (2) 11:30 (3) 14:30
※The bus (Nihon Taxi) will be waiting in front of the hotel.If you are coming from Meitetsu Gifu station, use the bus which leaves from the hotel. The hotel is just 3 minutes away from the Gifu station.
From JR Gifu station (2.Bus stop location)
Bus stop location: East side of Nagaragawaguchi Exit of JR Gifu station, In front of Juroku Plaza
Bus leaves at: (1) 9:15 (2) 11:45 (3) 14:45
※Take the down escalator of left hand side after getting out From the JR Gifu station. Juroku Plaza is just there and the bus (Nihon taxi) will be waiting for you.
Bus stop location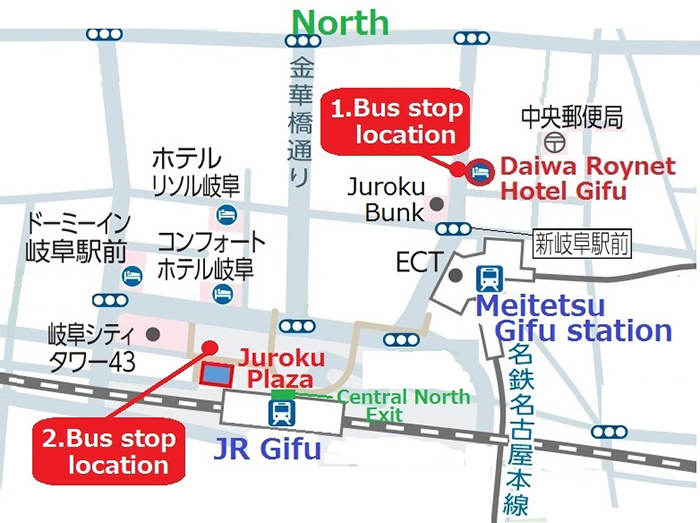 From factory to Daiwa Roynet hotel and JR Gifu station
Bus leaves at: (1) 10:30 (2) 13:30 (3) 16:30
Time table of the shuttle bus
The bus will be going every day during the Open House. It is 20 passenger bus.
[Out bound]
・09:00【Daiwa Roynet Hotel】→09:15【JR Gifu station】→10:10【Factory】
・11:30【Daiwa Roynet Hotel】→11:45【JR Gifu station】→12:40【Factory】
・14:30【Daiwa Roynet Hotel】→14:45【JR Gifu station】→15:40【Factory】
[In bound]
・10:30【Factory】→11:25【JR Gifu station】→11:30【Daiwa Roynet Hotel】
・13:30【Factory】→14:25【JR Gifu station】→14:30【Daiwa Roynet Hotel】
・16:30【Factory】→17:25【JR Gifu station】→17:30【Daiwa Roynet Hotel】
Inquiry for the bus
Sakurai Graphic Systems GIFU Factory Phone:+81-0575-33-1260 Koyama